"Over 20 youths slaughtered in cold blood in Benue, yet this is not a national issue? 20 leaders of tomorrow have been slaughtered yet Nigeria unlooks. This could be any of us. You are not more human or Nigerian than them" 
~ Twitter/ Rinu Oduala @Savvy Rinu
In a shocking and gruesome incident that has left the nation in mourning, over 20 young men were ruthlessly slaughtered in cold blood on July 10th, 2023, in Benue State, Nigeria, according to report by a Twitter user, @Savvy Rinu.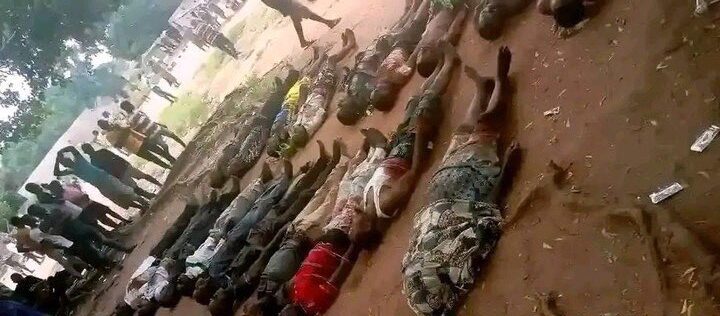 The harrowing details surrounding this appalling act remain shrouded in mystery, leaving the traumatized community demanding answers.
The motive behind this genocidal act remains unclear, heightening the urgency for a thorough investigation.  The families of the victims, as well as the entire nation, remain in shock as the sitting government, like the past Buhari led administeration, display nonchallance in going after fulani terrorist herdsmen inflicting carnage and genocide on Nigerian natives of the middle belt and deep north
The Benue State Government, in conjunction with law enforcement agencies, have been called upon by observers to establish a specialized task force to investigate these massacres and also synergize with other regions particularly the south east, south west and south south
The nation watches, and the world awaits the outcome of investigations to what seems to be a calculated form of genocide.
IOI NEWS
IMAGE: Twitter/@SavvyRinu.